This is the second part of our mini-series about the condition based on our patient booklet "Fast Facts for Patients: Long-Chain Fatty Acid Oxidation Disorders". This article addresses diagnosis of, living with and monitoring of long-chain fatty acid oxidation disorders (LC-FAOD). Furthermore, you find information on what you can do to help your child when affected by LC-FAOD.
Diagnosis
"Newborn screening" describes the health tests that take place during the first few days of a newborn baby's life. Some countries include tests for LC-FAODs in newborn screening, but others do not.
If newborn screening was not carried out or the LC-FAOD was not identified at that time, it may be diagnosed when symptoms appear. This may be in infancy or later in life.
Blood and Urine Tests
Blood and urine samples are tested in the laboratory to see if they have unusually high levels of partly digested fatty acids and other chemicals. Although some LC-FAODs have a specific pattern of results, further tests may be needed.
Testing Enzyme Activity
Sometimes doctors need to test whether a particular enzyme is working. A small sample of skin is taken in a procedure called a skin biopsy.
In the laboratory, cells called fibroblasts are taken from the skin sample and tested to see whether the enzyme is working normally.
Symptoms
Symptoms can range from mild to severe or life-threatening. Sometimes the symptoms are triggered by intense exercise or fasting. They can also happen following a viral infection or after surgery.
Most patients have only some of the symptoms shown below, depending on the specific diagnosis.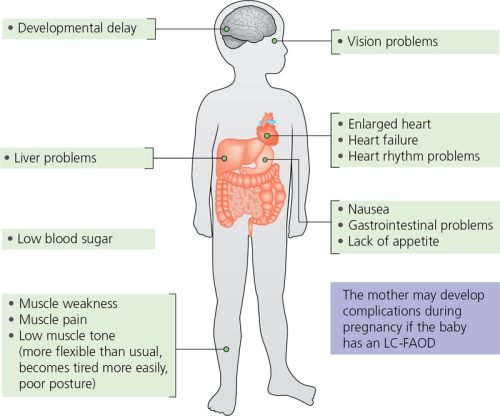 Living with a Long-Chain Fatty Acid Oxidation Disorder
Diet
LC-FAODs are managed with a special individualized diet (nutrition plan) – your healthcare team will talk to you about this.
Depending on the severity of the condition, your baby may need a special formula that is very low in long-chain fats. These formulas contain all the vitamins and minerals needed to allow normal growth. They also contain medium-chain fats, which a person with an LC-FAOD can break down into energy.
As your child starts to take solid food, your dietitian will give you advice on suitable foods to offer and introduce you to medium chain fats that can be substituted for normal fats.
Fasting Times and Regular Meals
Every child will have a different fasting time. This is the length of time that the body can provide energy safely without having to use fat stores. The way this is tested will depend on where you live.
Your hospital or metabolic team will give you advice on a safe fasting time for your child. Some children need overnight feeding (sometimes using a tube) if they have very short fasting times.
It is also important to avoid long periods without food – again, your healthcare team will give you specific information and advice.
Exercise and Sport
Exercising makes extra demands on the body's energy reserves. Your healthcare team will advise on how to make adjustments for this.
Illness and the Emergency/Sick Day Plan
Illness (high temperature, vomiting, diarrhea) disrupts the body's metabolism and the body needs more energy. A person with an LC-FAOD will need to use their emergency or sick day plan. This involves taking a high-sugar drink that will have been prescribed for you.
Metabolic Crisis
A metabolic crisis happens in response to a trigger, such as illness with high fever or a long interval between meals. During a metabolic crisis, the person has little energy and becomes ill as the harmful semi-digested fatty acids build up in the body. The advice that your healthcare team gives you about diet, mealtimes and illness will help avoid metabolic crisis.
Immunizations
It is very important to have the recommended immunizations, to avoid infections, which may cause a high temperature.
Monitoring
Keeping a check on your child's height and weight will be important as they grow. As well as checking that growth is normal, the information can also be used to make adjustments to the advice on diet, fasting, illness and exercise.
If you are an adult, monitoring weight is important to make sure that your dietary regimen is providing appropriate calories. Regular blood tests will be used to check your metabolic health or that of your child.
Your child will have the usual regular monitoring that all children have to check they are meeting their developmental targets (milestones), such as smiling, crawling, walking and talking. In this way, your healthcare team will be able to see whether your child's learning, coordination or sensory development (seeing and hearing) is being affected by the LC-FAOD.
What Can I Do to Help My Child?
The best way to lead a healthy active life or to help your child do this is to follow the specific advice of your healthcare team. Some general tips are:
have plenty of in-date emergency drink/food supplement at home and plan ahead.
have medications that help reduce a high temperature at home.
buy and use a thermometer.
use the full amounts of prescribed or advised special food.
if your child will not take the emergency drink/food supplement or you are concerned, go to your hospital.
keep contact numbers for your healthcare team in an easy-to‑reach place (it is a good idea to have them written down as well as stored in your phone contacts).
keep your emergency protocol in a safe and accessible place and make copies for those who care for your child.
ring your metabolic team for advice or go to the hospital.
inform childcare providers, nurseries, schools and clubs about your child's condition and what to do if your child appears unwell.
Here is a list of information you should share with care providers, schools and clubs:
A meal or eating schedule.
A list of supplements, formulas and/or medications.
A list that explains details of foods that you or your child can and cannot have, preferences and favorites.
A list that explains limitations regarding certain activities.
Warning signs/symptoms to watch out for and what to do if they occur.
Key phone numbers (family, doctors, nearby hospitals).
Letter from your LC-FAOD healthcare team to share with other medical providers.
Please check out the other posts of our series here:
Information based on Fast Facts for Patients: Long-Chain Fatty Acid Oxidation Disorders (Karger, 2021).