Artificial intelligence (AI) is a vast field that is developing fast. Its possible applications can be confusing and intimidating for patients. At the same time, we face challenges and needs in healthcare where AI can provide support and offers solutions. Emily Lewis, a digital health innovator, knows both the industry's and the patient's perspective and will shed light on different aspects of the topic. She is confident that we can use technology to re-humanize healthcare and bring connection.
In the second part of our series about "AI in Healthcare", Emily looks at how AI can help an ageing population in managing chronic diseases and long-term care needs. She takes a closer look at health education, care coordination and communication, as well as remote monitoring and telemedicine.
According to a 2022 study conducted by Pew Research Center, of seniors aged 65 or older in the United States, 61% report owning a smartphone, 44% report owning a tablet, 75% report being internet users, 64% report having broadband access at home, and 45% report using social media. This means that these seniors have the ability to use digital technology to access information, communicate with others, and complete tasks. In recent years, the percentage of digitally literate seniors has been increasing as more and more seniors are gaining access to computers, smartphones, and the internet.
While today's octogenarians may be somewhat reluctant to use technology, the "baby boomer" generation, however, is proving much more receptive to it. Most important to note, however, is that as the boomers continue to age, there will be a much greater demand for scalable solutions to meet their growing healthcare needs outside of already overburdened healthcare systems.
The good news? AI holds significant potential to support the health and wellbeing of seniors of all generations. AI-powered digital health solutions can help seniors to stay independent, manage their chronic conditions, and access healthcare services more easily. What's more, it can also greatly improve their quality of life, allowing them to maintain their independence longer. Here's how:
Health Education
AI can be used to educate senior patients about their conditions and treatments in more engaging and informative ways. Education can be personalized based on an individual patient's needs, preferences, health status, educational background, language, and more. This can help to improve patient understanding of their condition and treatment plan.
Longevity AI
An Israeli digital health company that uses AI in their platform to help people live longer, healthier lives. Beyond their healthcare provider dashboard which allows hospitals, providers, and other medical organizations to track and monitor the health of their patients in real-time with clinical decision support, they also have a companion Lifestyle app specifically for patients which includes a personalized health plan and serves as a personal coach. The app provides the "next best action" to patients based upon their unique needs and preferences. It also provides complete insights from their personalized health data in an easy-to-understand way so that they can make more informed decisions about their lifestyle.
Enhancing Care Coordination and Communication
AI can assist in coordinating care, helping to manage multiple healthcare providers and appointments, and ensuring information is shared appropriately between providers. It can also improve communication between senior patients and healthcare providers. This could be through apps or chatbots that answer routine healthcare questions, refill prescriptions, schedule appointments, and allow for virtual consultations. Many of these AI-powered solutions can provide senior patients with 24/7 access to health information and support which can help to reduce stress and anxiety.
K Health
K Health is a US-based digital health company that offers an AI-powered primary care platform under a subscription model. Users can report their symptoms to the app, and the AI will compare those symptoms with data from millions of other people to give an idea of potential diagnoses. The platform also allows users to chat with doctors, obtain prescriptions, and even get lab tests ordered.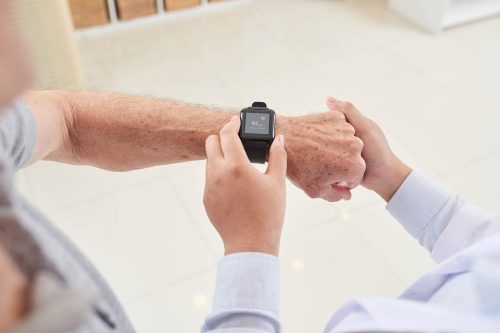 Remote Monitoring and Telemedicine
Wearable Devices
Through the use of AI wearable devices can now monitor patients' health (e.g. vitals like heart rate, blood pressure, glucose levels, etc.) at home. This data can be analyzed in near-real-time, alerting patients, caregivers, or healthcare providers if there's any anomaly. Such alerts can reduce the need for hospital visits by allowing the healthcare providers to intervene when necessary. The enablement of more timely, effective, proactive care means that seniors can therefore remain in their homes longer, reducing the need for costly hospital visits.
Examples include Apple Watch, Fitbit Versa, Samsung Galaxy Watch, Garmin Venu, and Withings ScanWatch.
Virtual Assistants
Many devices utilize AI to help seniors who have mobility or cognitive impairments perform tasks, stay organized, or control their environment.
Birdie: Birdie is a UK-based company who connects caregivers, families, and elderly individuals, providing reminders, monitoring health, and allowing families to stay updated on the well-being of their loved ones. Their data-driven product management strategy employs AI-powered analytics to analyze client medication usage and provide insights into patterns of behavior.
Papa: Papa is a US-based elder care company with a virtual assistant that can help seniors with tasks such as setting reminders, scheduling appointments, and making calls.
Medication Management
AI-powered apps can remind seniors when to take their medication, track their adherence, and notify caregivers or healthcare providers if they miss doses. This is particularly useful for seniors with chronic conditions requiring strict medication schedules. By addressing medication adherence issues up front, AI technology can reduce the cost of patient support programs and healthcare costs down the road.
AllazoHealth: AllazoHealth is a US-based company that provides predictive analytics to drive patient engagement, medication initiation, adherence, and health outcomes. Their AI platform empowers customers to identify risk factors for every patient and deliver the optimal content, channel, timing, and cadence for each individual, creating a truly one-to-one patient health experience.
Fall Detection and Prevention
Advanced AI systems can predict the likelihood of falls based on the person's physical condition and their environment, helping to prevent injury.
CarePredict: CarePredict is a US-based company with a global operation with a wearable device that tracks various activities of daily living, such as eating, sleeping and walking. The device uses AI to enable fall detection and subsequently alerts caregivers or medical professionals if there is a fall. Their algorithms can also predict potential health declines or issues based on user behavior.
SafelyYou: SafelyYou is a US-based company that also operates in Canada with AI-powered video technology that is intended to be deployed in senior living facilities. Their technology conducts remote, hourly, and nighttime wellness checks to provide a clearer picture of patient risk and detect falls.
Cognitive Training and Mental Health
AI can offer support for mental health through apps and platforms that provide therapeutic techniques, mental health assessment, and even early detection of mental health issues based on user input and behavior. Monitoring for signs of depression or anxiety, solutions can then offer support or alert a caregiver or healthcare provider as necessary. AI applications can also provide cognitive training to help slow the progression of cognitive decline.
Koa Health: Koa Health based in Spain, with additional locations in the Netherlands, the UK, and the US, has developed a cognitive training app called Evermind that uses AI to assess seniors' cognitive function and provide personalized exercises to improve memory, attention, and problem-solving.
Intuition Robotics: Intuition Robotics, based in Israel, has developed a robot called ElliQ designed to offer companionship, social engagement, reminders, and cognitive stimulation to senior citizens.
Conclusion
Ultimately, it is important to keep in mind that the objective of using AI in healthcare should always be to enhance the human aspects of care, not to replace humans themselves. This principle is especially important in older patient populations as seniors are not digital natives and therefore tend to prefer a more hands-on, humanized healthcare experience.